Welcome to the first post in my nail blog!
I've always been a nail polish junkie but I tend to go through phases with it where I'll hoard a load and do lots of manicure's then I'll lose interest and ebay them or give away. I've recently moved house and before I moved I got rid of lots and lots of polishes (wish I hadn't now but hey ho!)
I post on a forum and there is a NOTD thread which has re-ignited my passion for nail polish, prior to going on there the only premium brands I'd ever heard of were OPI and Essie. The only one I'd ever owned was OPI and that was down to a fantastic mum buying me gifts for Christmas and Birthdays! Now I have an emerging obsession with China Glaze amongst others!
I have taken lots of pictures, although I warn you, I don't own a DSLR and although I have a digi camera I do take most of my pictures on my phone so some of them will be crummy. I will endeavor to take better pictures on my actual camera now that I have started a blog! I will be uploading the pictures I've taken in the past up slowly but surely as and when I can.
So today's polish! I am wearing IDK by China Glaze. I love these holo's and I'd adore the whole collection (I own LOL and 2NITE), I'm keeping my eyes peeled out for DV8 as it looks amazing in the swatches that I've seen, it's a teal holo. I'm also adding TMI/QT and L8R G8R to my wishlist. The thing I really like about the CG OMG polishes is that they apply so easily compared to the nightmare that was the Gosh Holo.
Pics below: It's pretty impossible with my camera to show the colour you get with this polish, I find myself looking at it for ages just moving my nail to see all the gorgeous colours it reflects!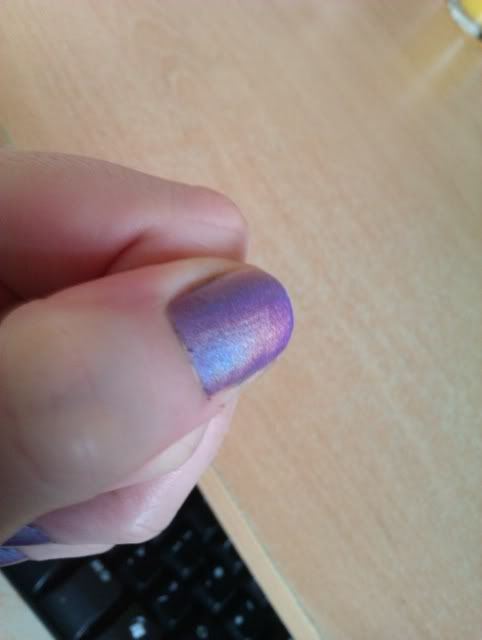 I do have Accessorize Mermaid on my toes but I have a thing about my feet (in that I hate them and my phone decides to behave and pick up every bad bit about my feet when I do pics of them!) so when I do it on my fingernails I will post a picture then!